Corrosion and Wear Ceramic Tiles, Blocks
Product Detail
Product Tags
Shandong Zhongpeng Special Ceramics Co., Ltd, specialized in production of SiSiC products for 10 years, and now is one of the biggest SiSiC products manufacturer in China. Reaction bonded silicon carbide (SiSiC) Wear resistant solutions: Moh's hardness is 9.5 (New Moh's hardness is 13,  open porosity: <0.1%, density:3.05 g/cm3), with excellent resistance to erosion and corrosion, excellent abrasion – resistance and anti-oxidation. It is 4 to 5 times stronger than nitride bonded silicon carbide. The service life is 5 to 7 times longer than alumina material. The MOR of RBSiC is 5 to 7 times that of SNBSC, it can be used for more complex shapes.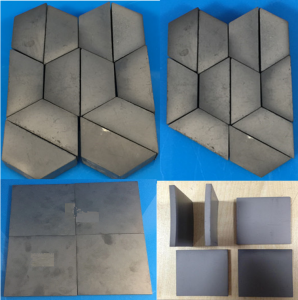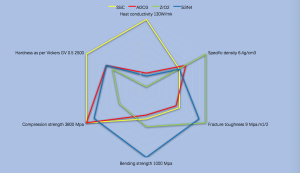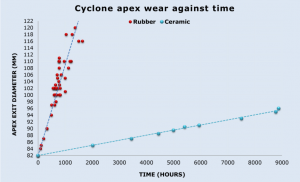 Our reaction bonded silicon carbide (SiSiC) pipes/ tiles /linings are produced by slip-casting process. 
Achieved a lower cost, compared to SSiC tiles.

Use of fine green SiC powder, excellent wear resistance performance, the service life is more than 5-7 times of alumina.

Coefficient of Friction is Moderate. 

Large size components can be produced.
Ceramic wear resistant systems Catalog: 
Wear solutions ceramic
Ceramic wear solutions
Ceramic wear plates
Wear resistant coatings and linings
Wear resistant ceramic composites
High alumina ceramic wear resistant tiles
Ceramic wear and corrosion protection
Alumina ceramic-lined products
Ceramic filled polymer wear products
Ceramic/composite machining services
Wear protection to mining operations
Mining cyclone wear protection solutions
Wear and corrosion protection with advanced ceramics
Mining, gravel and dredging wear solutions
Corrosion resistance of wear resistant silicon carbide ceramics
Wear & corrosion resistant solutions
Power generation chute linings
Minerals processing chute linings
Sluiceways ceramic lining tile
Advanced ceramics-based extreme abrasion and corrosion resistant products
Advanced-ceramic lining systems
Wear resistant technical ceramics
Ceramics tiles for wear protection
Silicon carbide and alumina ceramic tiles
Ceramic wear plates
---
---